Orchard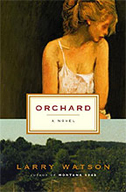 From the bestselling author of Montana 1948 comes the explosive story of an artist, his muse, and the staggering price they pay for their chance at immortality.

Ned Weaver, an internationally acclaimed painter, is famous in Door County, Wisconsin, for his luminous work—and for his affairs with his models. His wife, Harriet, has learned to accept these dalliances in the belief that his immense talent will ultimately make up for his shortcomings as a husband.

Sonja Skordahl, a Norwegian immigrant, came to America looking for a new life. Instead, she married Henry House, only to find herself defined, like so many other mid-twentieth-century women, by her roles as wife and mother. As circumstances and destiny land Sonja in Ned's studio, she becomes more than his model and more than an object of desire—she becomes the most inspiring muse Ned has ever known. When both Ned and Henry insist on possessing her, their jealousies threaten to erupt into violence, and Sonja must find a way to placate both men without sacrificing her hard-won sense of self.

With the stark, lyrical prose that Larry Watson is known for ("as fresh and clear as [a] trout stream" —The Washington Post Book World) and vivid characters who seem to breathe on the page, Orchard explores the lives of four very different people bound together by beauty, art, obsession, and betrayal.